Market Insights: The Bulls Start to Take Charge
Milestone Wealth Management Ltd. -
Jun 09, 2023
In some previous Charts of the Week over the past many months, we have talked about the potential benefit of acting in contrary to general market sentiment when extreme levels of pessimism are reached, like we've seen in the recent past. In other words, when everyone is positioned very defensively, we often see the market revert to a positive trend as there just isn't anyone left to drive prices down further. The same can hold true when there is extreme optimism, except in the opposite direction. However, this week we wanted to explore the scenario when there is a dramatic shift of sentiment from extreme pessimism to optimism, which is what we experienced this past week. In prior similar situations, this shift has offered stronger forward-looking returns on average.
The S&P 500's bear market that began in early 2022 has officially ended this week as the S&P 500 has rallied just over 20% (the level that many consider a new bull market) off the October lows on a closing basis, resulting in renewed optimism by investors. As shown below, the latest sentiment readings from the American Association of Individual Investors (AAII) saw a surge in optimism. Readings over most of the past year and a half have only averaged roughly a quarter of respondents reporting as bullish, and at times hit historically extreme low levels. However, this week, 44.5% reported as bullish or a 15.4% increase from last week's 29.1% reading. That is the highest bullish sentiment reading since the week of November 11, 2021.
Source: Bespoke Investment Group
Bearish sentiment also plummeted recently. As the first chart below illustrates, only 24.3% of respondents reported as bearish this week, which is the lowest reading since November 2021. The massive moves between bulls and bears resulted in a large increase in the bull-bear spread with the reading rising 27.9 points this week up to 20.2% as the second chart shows. This is the biggest one-week bull-bear spread increase since the first week of June last year and ranks in the 98th percentile of weekly gains in the history of the survey. As with the bullish sentiment, this bull-bear spread is now the highest it has been since November 2021.
Source: Bespoke Investment Group
The bull-bear spread rising by at least 25 percentage points in just one week is very rare. The table below shows the performance of the S&P 500 Index following each prior instance of the bull-bear spread rising 25+ points with at least six months since the previous occurrence. The S&P 500 has done well during these types of bullish sentiment surges as the index has consistently moved in a positive direction over the next year. Performance one week, one month, and three months out has tended to be well above average compared to all other periods, especially in times when less than half of responses were bullish as is the case now. Performance six months to one year out has also been positive and above average, but not quite to the same extent on a relative basis to all other periods. As they grey shaded area shows, when the bull-bear spread has risen over 25 points with bulls representing less than 50% of respondents, the S&P 500 has averaged returns of 1.52%, 4.17%, 5.11%, and 11.88% over the following month, three months, six months and one-year periods, respectively. Perhaps more importantly, the S&P 500 had positive returns 92% of the time one year later.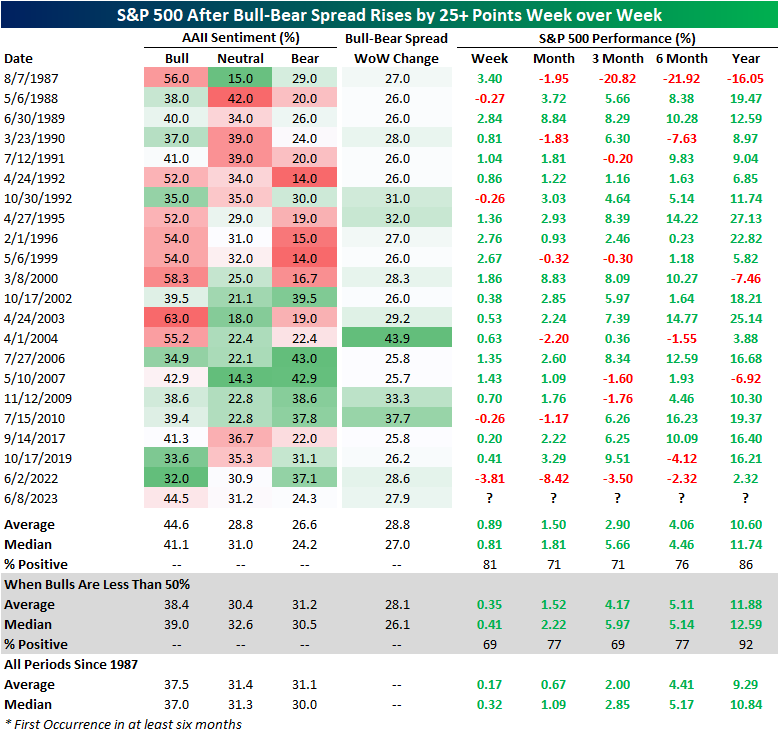 Source: Bespoke Investment Group
Sources: CNBC.com, Globe and Mail, Financial Post, BNN Bloomberg, Thomson Reuters, Refinitiv, Bespoke Investment Group, Business Insider
©2023 Milestone Wealth Management Ltd. All rights reserved.
DISCLAIMER: Investing in equities is not guaranteed, values change frequently, and past performance is not necessarily an indicator of future performance. Investors cannot invest directly in an index. Index returns do not reflect any fees, expenses, or sales charges. Opinions and estimates are written as of the date of this report and may change without notice. Any commentaries, reports or other content are provided for your information only and are not considered investment advice. Readers should not act on this information without first consulting Milestone, their investment advisor, tax advisor, financial planner or lawyer. This communication is intended for Canadian residents only and does not constitute as an offer or solicitation by anyone in any jurisdiction in which such an offer is not allowed.