Market Insights: Canadian Interest Rates Pull Back
Milestone Wealth Management Ltd. -
Oct 28, 2022
Macroeconomic and Market Developments:
North American markets were up significantly this past week. In Canada, the S&P/TSX Composite Index advanced 3.24%. In the U.S., the Dow Jones Industrial Average rose 5.72% and the S&P 500 Index increased 3.95%. With one day left in trading this month, October 2022 is poised to be the best month for the Dow since January 1987.
The Canadian dollar was up slightly this week, closing at 73.49 cents vs 73.32 cents last Friday.
Oil prices were mixed this week. U.S. West Texas crude closed at US$88.23 vs US$85.14, and the Western Canadian Select price closed at US$58.67 vs US$58.72 last Friday.
The gold price finished down this week, closing at US$1,644 vs US$1,655 last week.
The big story for the Canadian markets this week was the announcement by the Bank of Canada on Wednesday. The central bank raised its bank rate by 0.50% to 3.75%, less than the 0.75% that most economists had been forecasting. In its comments, the central bank seems to be recognizing that the rapid rise in rates is having an effect on the economy in stating: "The effects of recent policy rate increases by the Bank are becoming evident in interest-sensitive areas of the economy: housing activity has retreated sharply, and spending by households and businesses is softening. Also, the slowdown in international demand is beginning to weigh on exports."
Calgary based Crescent Point Energy (CPG) reported better than expected earnings this week of $1.02/share vs $1.00/share expected. Average production for the quarter ended September 30th was 133,019 boe/d, comprised of over 80% oil and liquids. The company also announced a $0.035/share special cash dividend.
Imperial Oil (IMO) also reported better than expected earnings of $3.24/share vs $2.77/share forecast. The company is increasing its quarterly dividend by 29.4% to $0.44/share and will initiate a share buyback plan for up to $1.5 billion of its common shares.
Suncor Energy (SU) announced late Wednesday that it has reached a deal to purchase Teck Resources' stake in the Fort Hills oilsands project for $1 billion. The all-cash deal will be effective November 1st and will boost Suncor's aggregate share in the oilsands project to more than 75%, with the remaining ownership being held by French energy company TotalEnergies SE.
It was a very tough week for large tech company earnings this week:

After the market closed on Tuesday, Alphabet (GOOGL) disappointed with earnings of $1.06 vs. $1.25 expected, on revenue of $69.09 billion vs $70.58 billion expected. Investors reacted very negatively, with the stock price dropping 9.63% on Wednesday.
Also on Tuesday, Microsoft (MSFT) beat expectations with earnings of $2.35/share vs $2.30/share on revenue of $50.12 billion vs $49.61 billion expected. The stock sold off on Wednesday as well, finishing the day down 7.72%.
After the close on Wednesday, Facebook and Instagram parent company Meta Platforms (META) released earnings that were yet again below expectations. Earnings came in at $1.64/share vs $1.89/share expected, although revenue was a bit better than forecast at $27.71 billion vs $27.38 billion expected. A big negative also came from a downbeat forecast for the upcoming quarter's revenue, leading to a staggering drop of 24.56% on Thursday.
After the market close on Thursday, Amazon (AMZN) also disappointed investors with earnings of $0.28/share with revenue of $127.10 billion vs $127.46 billion estimated. Amazon said it expects to post fourth-quarter revenue between $140 billion and $148 billion, representing growth of 2% to 8%. Analysts were expecting sales to come in at $155.15 billion. On Friday, the stock dropped by 6.80% as a result.
Also on Thursday, Apple (AAPL) beat market expectations with earnings of $1.29/share vs $1.27 estimated, on revenue of $90.15 billion vs $88.90 billion estimated. However, iPhone revenue came in slightly under expectations at $42.63 billion vs $43.21 billion estimated, up 9.67% year-over-year. Bucking the trend of the other major tech companies this week, Apple's stock price was up 7.56% on Friday.

Here is a link to a short video from Canaccord's chief U.S. Strategist Tony Dwyer entitled The State of Year-End Rally: DWYER VLOG
Weekly Diversion:
Who knew beavers could be so cute?
Charts of the Week:
As mentioned above, the Bank of Canada surprised investors this week with a smaller increase to the bank's interest rate than expected. This led to a rapid reassessment by the bond market of the future path of rates, causing bond yields to fall markedly this week. 2022 will go down in history as a year of dramatic increases in rates, so let's take a look at the Canadian 10-year government bond yield over the past year. The year started with the 10-year bond yielding 1.43% and topped out at 3.68% on October 20th. After this week's declines, the 10-year yield now sits at 3.24%.
Source: MarketWatch
Turning our attention to the stock market, we had another positive move this week. Clearly this has been a negative year for the markets, but many people are starting to ask if we've seen the worst. Of course, no one can accurately predict what will happen in the short-term, but the following chart provides some reason for optimism. For the last 18 straight mid-term elections, the six months following the election have been positive – sometimes dramatically so, with an average six-month return of 15.2%. With the mid-term elections coming up on November 8th, we will be potentially entering a very positive period for the markets.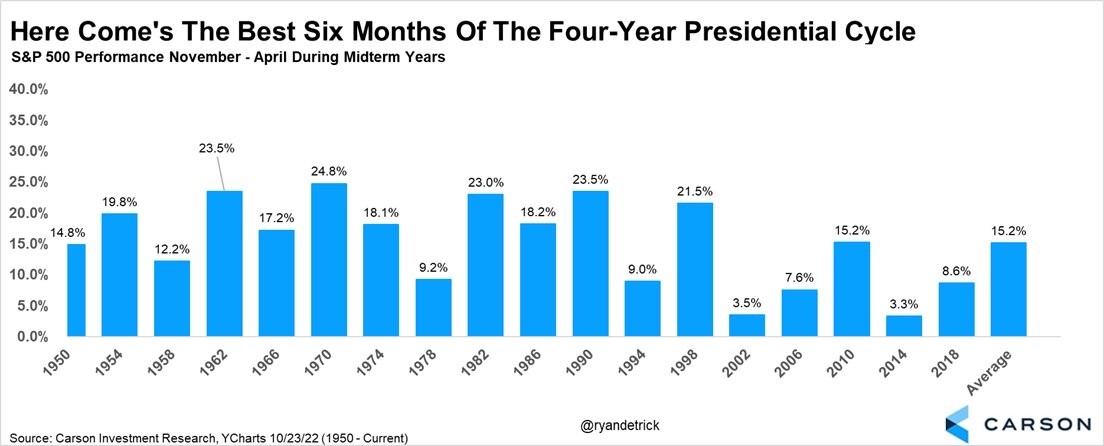 Source: Ryan Detrick CMT, Carson
DISCLAIMER: Investing in equities is not guaranteed, values change frequently, and past performance is not necessarily an indicator of future performance. Investors cannot invest directly in an index. Index returns do not reflect any fees, expenses, or sales charges.
Sources: CNBC.com, Globe and Mail, Financial Post, Connected Wealth, BNN Bloomberg, Tony Dwyer, Canaccord Genuity, First Trust, MarketWatch, @RyanDetrick, Carson Investment Research, YCharts