Market Insights: Economic Recovery Continues
Milestone Wealth Management Ltd. -
Aug 20, 2021
Macroeconomic and Market Developments: North American markets were lower last week. In Canada, the S&P/TSX Composite Index was down 0.87%. In the US, the Dow Jones Industrial Average declined 1.11% and the S&P 500 Index lower by 0.60%. The Canadian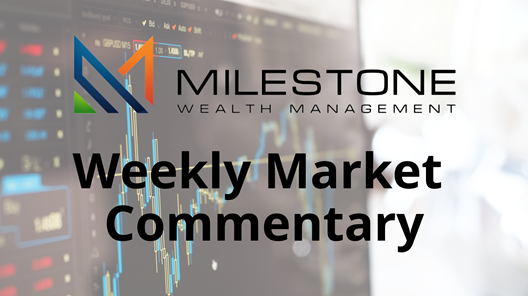 Macroeconomic and Market Developments:
North American markets were lower last week. In Canada, the S&P/TSX Composite Index was down 0.87%. In the US, the Dow Jones Industrial Average declined 1.11% and the S&P 500 Index lower by 0.60%.
The Canadian dollar finished much weaker, closing at 78.00 cents compared to 79.89 cents last Friday.
Oil prices were also much lower last week. US West Texas crude closed at $62.14 vs $67.94 last week, and the Western Canadian Select price was closed at $49.07 vs $55.23 last week.
Gold prices were flat last week, closing at $1,781 vs $1,778 last Friday.
On Monday, it was announced that Silver Crest Acquisition, a US-based SPAC (Special Purpose Acquisition Corp), has reached a merger agreement with Tim Hortons China, effectively allowing the restaurant chain to go public on the markets. The deal gives the company an implied Enterprise Value of $1.69 billion and is expected to trade on the NASDAQ market.
In Canadian economic news, Statistics Canada reported on Monday that manufacturing sales rose 2.1% to $59.2 billion in June, a bit better than estimates. June wholesale sales fell 0.8%, better than consensus for a 1.9% drop. Also, July housing starts came in at +272K slightly below the 275K rise expected. And CREA reported home sales continued to moderate in July with sales down 3.5% month over month.
Canada's inflation rate rose last month. Canada's July Consumer Price Index (CPI) came in above expectations at +0.6% month over month and +3.7% year over year. Consensus estimates were for +0.4% and +3.7% respectively. Excluding gasoline, the CPI rose 2.8% year over year.
In US economic news, retail sales declined 1.1% in July (-0.6% including revisions to prior months) vs expectations of a decline of 0.3%, but are up 15.8% versus a year ago. Sales excluding autos declined 0.4% in July) vs an expected a gain of 0.2% and are up 15.8% in the past year. Excluding gas, sales declined 1.4% in July, but are up 14.2% from a year ago.
Canadian retail sales rose 4.2% in June, slightly below consensus estimates looking for +4.5%, as reopening helped sales rebound from a 2.1% drop in May. Statistics Canada provided an early flash estimate for July suggesting sales rose 1.7%
Here is a link to a short video from Canaccord's chief U.S. Strategist Tony Dwyer entitled Two Charts Highlighting What the Market Has Really Been Doing: DWYER VLOG
Weekly Diversion:
Check out this video of an incredibly smart dog.
Charts of the Week:
As the economy slowly recovers from the global pandemic, employment and inflation have been hot button issues. In this week's US jobless claims numbers, we can see that new claims continue to trend lower, which is encouraging.
Source: Connected Wealth
However, with a strengthening economy, inflation can become a problem, as we have highlighted in previous commentaries. In a recent survey of 547 US companies, labor shortage, inflation and commodity prices are some of the top threats to sales expressed by those companies.
Source: S&P Global Market Intelligence
Sources: CNBC.com, Globe and Mail, Financial Post, BNN Bloomberg, Tony Dwyer, Canaccord Genuity, Connected Wealth, S&P Global Market Intelligence