Market Insights - Earnings Season as Good as it Gets
Milestone Wealth Management Ltd. -
Jul 23, 2021
Macroeconomic and Market Developments: North America markets were positive this week, shaking off a big down day on Monday. In Canada, the S&P/TSX Composite was up 1.03%. In the US, the Dow Jones Industrial Average increased 1.08% and the S&P 500 Ind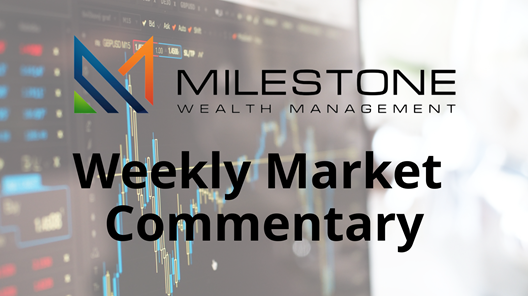 Macroeconomic and Market Developments:
North America markets were positive this week, shaking off a big down day on Monday. In Canada, the S&P/TSX Composite was up 1.03%. In the US, the Dow Jones Industrial Average increased 1.08% and the S&P 500 Index was up 1.96%, closing at a new all-time high.
The Canadian dollar finished positive this week, closing at 79.58 cents vs 79.27 cents USD last Friday.
Oil prices were also very volatile this week, with US oil selling down to ~US$66 on Monday, but rallying strongly for the rest of the week to finish slightly positive. US West Texas crude finishing at US$72.02 vs US$71.51 last week, and the Western Canadian Select price declined slightly to $57.89 vs $58.15 last week.
Gold prices were down slightly this week, closing at US$1,802 vs US$1,815 last Friday.
Great-West Lifeco (GWO) announced its U.S. subsidiary Empower Retirement will acquire Prudential's (PRU) full-service retirement business for a total transaction value of ~C$4.45B (US$3.55B). The value of the transaction includes ~C$2.6B (US$2.1B) of capital to support the business.
S&P has announced that CAE will replace Brookfield Property Partners (BPY) in the S&P/TSX 60 index. The change will take place prior to the open of trading on July 27, 21.
The Bank of Canada has promoted Sharon Kozicki, who is currently an adviser at the bank, to deputy governor effective August 2nd. Kozicki will share responsibility for overseeing the bank's financial system activities until Carolyn Rogers begins her new job as Tiff Macklem's second-in-command on December 15th.
Canadian tech company Shopify (SHOP) traded through the C$2,000 level for the first time ever this week, closing at $2,068.45. The total market capitalization sits at approximately C$250 billion, making Shopify the biggest company in Canada by a wide margin. Royal Bank (RY) is the second largest company at approximately C$179 billion.
On Friday, Canadian auto-parts company Magna (MG) announced that it is acquiring Swedish driver-assistance auto part supplier company Veoneer (VNE) for $3.8 billion in cash or $31.25 a share, which is a 57% premium to the closing price on Thursday. CIBC reported that the deal will be dilutive to Magna's earnings in the near-term but called the move to become global leader in ADAS (advanced driver-assistance systems) a strategic positive.
In Canadian economic news, retail sales declined 2.1% to $53.8B in May, however this was better than the forecasted drop of 3.0%. The largest declines occurred at building material and garden equipment and supplies dealers (11.3%) and motor vehicle and parts dealers (2.4%). Statistics Canada is providing an advance estimate of retail sales, which suggests that sales increased 4.4% in June.
Here is a link to a short video from Canaccord's chief U.S. Strategist Tony Dwyer entitled Getting There Update: DWYER VLOG
US Investment company First Trust has created a COVID Recovery Tracker. Click here: RECOVERY TRACKER
Weekly Diversion:
Check out this video if you need to find out what kind of camper you are.
Chart of the Week:
We are currently about a quarter of the way through corporate earnings season, and by the numbers we are seeing so far it is about as 'good as it gets'. Perhaps all the pent up savings we discussed in our Second Quarter Wrap-up, with an extremely high savings rate in North America over the past 18 months, is finally getting put to work in the 'Summer of Spending'.
The chart below shows the percentage of positive quarterly earnings and sales surprises for the S&P 500 over the last six and a half years. Positive earnings and sales are of course important to markets, but what is typically more important is what is known as the 'beat rate', or the rate at which companies are beating expectations. The reasoning is that markets have already priced in an expected level of sales and earnings, so markets tend to only move higher or lower if that expectation is exceeded or not. Positive earnings surprises have been as strong as ever again this past quarter, just like it was in the first quarter this year, but what stands out to us is the rate of positive sales surprises, which is the highest we have seen over this period. This is important because while expectations were very high for sales and earnings due to easy comparables to Q2 last year, it is very impressive to see this positive surprise rate. This level of sales surprises certainly bodes well for economic activity over the coming quarters, assuming the current COVID variants are kept at bay.
In Canada, we can also see evidence of this in new consumer data from the Bank of Canada. Perhaps you may have noticed this of late if you have been put on a wait list to visit your favorite restaurant. The data shows that consumer demand for goods (and especially services) are at all-time highs here, and we are seeing this with great numbers coming out for Q2 earnings of consumer discretionary companies, whereby 75% of those companies have beat earnings growth estimates by an average of 10.6%.
Source: Connected Wealth
Sources: CNBC.com, Globe and Mail, Financial Post, BNN Bloomberg, Tony Dwyer, Canaccord Genuity, First Trust Advisors, Connected Wealth