Market Insights: History Points to Solid Second Half for S&P500
Milestone Wealth Management Ltd. -
Jul 02, 2021
Macroeconomic and Market Developments: North America markets were mixed this week, with Canada flat and the US positive. In Canada, the S&P/TSX Composite Index was virtually unchanged at -0.05%. In the US, the Dow Jones was up 1.02% and the S&P 500
Macroeconomic and Market Developments:
North America markets were mixed this week, with Canada flat and the US positive. In Canada, the S&P/TSX Composite Index was virtually unchanged at -0.05%. In the US, the Dow Jones was up 1.02% and the S&P 500 Index increased by 1.66%, ending at another all-time high.
The Canadian dollar was down slightly this week, closing at 81.16 cents vs 81.33 cents last Friday.
Oil prices were positive this week, with US WTI crude finishing at $75.20 USD compared with $74.04 last week, and the Western Canadian Select price at ~$61.31 compared with ~$60.12 last week.
Gold prices were up slightly this week, closing at ~$1,788 vs ~$1,782 USD last Friday.
Brookfield Business Partners (BBU.un) announced it is to acquire Modulaire Group for ~$5B, Modulaire is a leading provider of modular leasing services in Europe and Asia-Pacific. Brookfield's investment will be funded with approximately $1.6B of equity.
A federal court on Monday dismissed the Federal Trade Commission's antitrust complaint against Facebook (FB). The dismissal deals a major setback to the agency's complaint, which could have resulted in Facebook divesting Instagram and WhatsApp. As a result, Facebook's shares rose 4.18% on Monday, giving the company a market capitalization of over $1 trillion for the first time.
Canadian GDP fell 0.3% in April, better than consensus and StatCan's early estimate for a 0.8% drop. The agency provided a preliminary estimate for May GDP, down 0.3%. Analysts widely expected the soft patch as much of the country was dealing with third-wave lockdowns; however, with vaccinations gaining momentum and reopenings underway, confidence has grown for a strong summer rebound.
Canadian uranium miner Cameco (CCO) announced that it is to evacuate all non-essential personnel from the Cigar Lake uranium mine in northern Saskatchewan as a precaution due to the proximity of a northern wildfire that is currently burning in the vicinity of the operation.
US jobs numbers for June were released on Friday (Canada's numbers will come out next Friday). Nonfarm payrolls increased by 850,000 in June, compared with average estimates of 706,000. The unemployment rate unexpectedly rose to 5.9% vs. the estimate of 5.6%. Wages were up 0.3% for the month and 3.6% year over year, both in line with expectations.
Here is a link to a short video from Canaccord's chief U.S. Strategist Tony Dwyer entitled Further Explanation On - Do No Harm: DWYER VLOG
For a deeper dive, the US investment company First Trust has put out a US COVID-19 Tracker. Click here: COVID TRACKER
In addition, First Trust has created a COVID Recovery Tracker. Click here: RECOVERY TRACKER
Weekly Diversion:
Check out this video of a guy in Everett Washington who almost loses his boat when it isn't even in the water.
Charts of the Week:
In this week's charts, we would like to highlight that the first half of 2021 was steadily positive for the S&P500, with the major US index never experiencing anything more than a 5% pullback from a closing high. In fact, the S&P 500 has not seen a 5% pullback since October, and since the start of this year, the most it has fallen from a high was 4.23% from mid-February to March 4th. It did suffer a roughly 4% pullback in May, but otherwise the direction has been decidedly positive.
Source: Bespoke Investment Group
In the S&P 500's history, there were only 14 other years where the largest pullback through June 30th was less than 5%, so let's have a look at how the market performed for the balance of the year in those instances. As you can see in the chart below, in 13 of those 14 years, the S&P 500 saw positive returns in the second half of the year (the only down year being 1986 with a 3.5% decline in the second half of the year). To add to that statistic, the median gain was an impressive 10.2% well above average for all other years.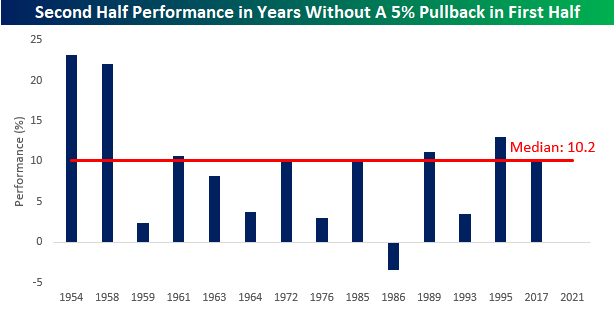 Source: Bespoke Investment Group
Sources: CNBC.com, Globe and Mail, Financial Post, BNN Bloomberg, Tony Dwyer, Canaccord Genuity, First Trust Advisors, Bespoke Investment Group