Market Insights: Canadian Equity Valuations Remain Attractive
Milestone Wealth Management Ltd. -
May 07, 2021
Macroeconomic and Market Developments: North American stock markets were positive this week. In the US, the Dow Jones Industrial Average was up 2.65% and the S&P 500 Index advanced 1.22%. In Canada, the S&P/TSX Composite increased 1.60%. The Canadian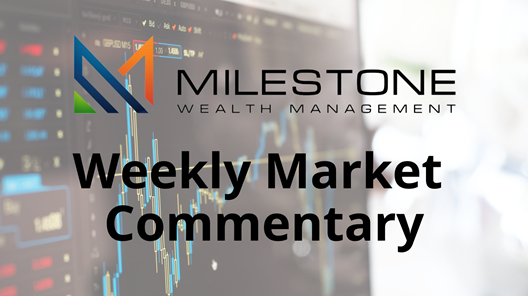 Macroeconomic and Market Developments:
North American stock markets were positive this week. In the US, the Dow Jones Industrial Average was up 2.65% and the S&P 500 Index advanced 1.22%. In Canada, the S&P/TSX Composite increased 1.60%.
The Canadian dollar was up again this week, closing at 82.40 cents vs 81.35 cents last Friday.
Oil prices were mixed this week, with US WTI crude oil closing up this week at US$64.75 vs US$63.45 last Friday. In Canada, the WCS oil price was down this week at ~$50.60 vs ~$53.00 last week.
Gold prices were up strongly this week, closing at ~US$1,833 vs ~US$1,767 last Friday.
The annual shareholders' meeting for Berkshire Hathaway was held last weekend, led by legendary investor Warren Buffet. One of the revelations that came out of the meeting was that Edmonton-born Greg Abel, who is currently a vice-chairman of the company, has been identified as the most likely successor to take over the reins of the company for Mr. Buffet in the future. We have already seen the nickname "Oracle of Edmonton" in the media.
Growth in the US service sector cooled in April from the record-setting pace in March, but it didn't slow by much. The ISM Non-Manufacturing index declined to 62.7 in April, lagging the consensus expected 64.1 (levels above 50 signal expansion; levels below signal contraction).
Cryptocurrency Dogecoin is the latest investment craze. Although the currency was originally launched as more of a joke, the value has soared in 2021, now becoming one of the most valuable cryptos. Starting the year at a price of under $.01, it reached as high as ~$.69 before pulling back slightly, finishing the week at around $0.64, giving it a total market value of approximately US$80 billion.
Jobs numbers for April were released on Friday, with Canada losing 207,100 jobs, more than the 175,000 job loss that was forecast. The unemployment rate rose to 8.1%, also higher than the forecast of 7.8%. The Canadian jobs market took a hit as new restrictions imposed to curb a harsh third wave of COVID-19 took hold in April.
In the US, where the vaccine rollout is much further ahead, the economy added 266,000 jobs. However, this was much lower than expectations of a 1 million job gain in April. The unemployment rate rose to 6.1% vs expectation for the rate to be at 5.8%.
For a deeper dive, the US investment company First Trust has put out a US COVID-19 Tracker. Click here: COVID TRACKER
In addition, First Trust has created a COVID Recovery Tracker. Click here: RECOVERY TRACKER
Chart of the Week:
This week we look at valuations of Canadian equities vs. the US. We know that Canadian equities have underperformed for many years; however, we are certainly keeping pace this year and are currently the cheapest relative to the US going back at least 20 years. As you can see below by the orange (US) and purple (Canada) lines, valuations on a historical basis remain high for the US but are far more reasonable here in Canada. In fact, the valuation gap of 6 points as measured by the price-to-earnings (12-mth forward consensus) multiple and represented on the chart by the grey shaded area, is at a new record, outpacing 2001. We have taken notice of this and have tilted our overall equity exposure with our US equity being reduced by 2.4% while our Canadian equity has increased by 2% since the start of this year. This shift is in line with an overall more positive tone towards cyclicals with pricing power like Energy, Industrials and Consumer Discretionary, as well as Financials, an area which tends to perform relatively well in a rising interest rate environment and steepening yield curve, while the tech-heavy US market may take a bit of breather. As the global economy begins its slow re-opening process as the year progresses, this trend could certainly continue favoring relatively undervalued Canadian equities, while higher interest rates keep some pressure on higher growth sectors like technology.
Source: Connected Wealth, Bloomberg
Sources: CNBC.com, Globe and Mail, Financial Post, Government of Canada, Johns Hopkins University, oilprice.com, Tony Dwyer, Canaccord Genuity, Connected Wealth, Bloomberg