Market Insights: Crude & Cannabis on Fire
Milestone Wealth Management Ltd. -
Feb 12, 2021
Here is a link to a short video from Canaccord's chief U.S. Strategist Tony Dwyer, in which he describes three key points of stimulus in play right now: monetary, fiscal, and interest rate expense stimulus, with the last being one that not many talk
Here is a link to a short video from Canaccord's chief U.S. Strategist Tony Dwyer, in which he describes three key points of stimulus in play right now: monetary, fiscal, and interest rate expense stimulus, with the last being one that not many talk about. We agree with Tony that this should continue to fuel a synchronized global recovery in an aggressive U.S. improvement: DWYER VLOG
With all of the recent changes to rules regarding travel, here is a new post from SnowbirdAdvisor.ca that may be helpful: Snowbird's Guide to Travel Restrictions
Macroeconomic and Market Developments:
Equity markets in North America were positive again this week. The TSX Composite was up 1.79% and for the US, the Dow Jones was up 1.00% and the S&P 500 was up 1.23%.
The Canadian dollar was up this week, closing at 78.75 cents this Friday from 78.3 cents last Friday.
Oil prices were up strongly this week. WTI crude finished just below $60, up from $57. The Canadian WCS price finished at ~$47 compared with $44.50 last week.
Gold prices finished at $1,824 this week, up from $1,811 last week.
On Monday, Tesla (TSLA) revealed through an SEC filing that they had accumulated US$1.5 billion worth of bitcoin in January. In addition, the company said it will start accepting payments in bitcoin in exchange for its products "subject to applicable laws and initially on a limited basis." This news pushed up the price of bitcoin on Monday from roughly $38,000 to around $47,000.
Cannabis stocks continued their 2021 rally this week. The Horizons Marijuana Life Sciences ETF (HMMJ) is now up 79% in 2021. Its closing price of $14.13 is still below its all-time high of $27.00 hit in October 2018 when cannabis was legalized in Canada.
Wednesday saw two deals in the Calgary oil and gas sector. Firstly, Brookfield Infrastructure Partners (BIP.un) announced its intention to make an offer to purchase Inter Pipeline (IPL) for $16.50/share. This represented a ~23% premium to IPL's previous closing price. Secondly, ARC Resources (ARX) and Seven Generations (VII) announced that they have agreed to merge. Following the close of the transaction, ARC shareholders will own approximately 49% and Seven Generations shareholders will own approximately 51% of the total shares outstanding.
US dating app company Bumble completed its IPO on Thursday. Shares were priced at US$43.00 and closed at US$70.31 giving the company a market value of approximately US$7.7 billion. The company was founded in 2014 by Whitney Wolfe Herd, a former executive of Tinder.
Toronto-based Purpose Investments has been approved by the Ontario Securities Commission to launch the world's first open-ended Bitcoin ETF. The new Purpose Bitcoin ETF will invest directly in the cryptocurrency and starts trading on February 18th under the symbol BTCC.
Total global cases of COVID-19 finished this week at 108.0 million, with the total deaths at 2.38 million. In Canada, total cases now stand at 817,163, with active cases at 37,747. In Alberta, total cases are 127,921, with active cases of 5,501.
For a deeper dive, the US investment company First Trust has put out a US COVID-19 Tracker. Click here: COVID TRACKER
Charts of the Week:
Crude prices have been on a major roll this year, and this has pushed the S&P 500 Energy sector up as the leader in terms of YTD performance. As of Wednesday, the sector was up more than 16%, almost a whopping 10% above the second-best performer. Clearly the big driver in this performance has been the surge in crude oil prices. In fact, with this week's rally the WTI crude price rose more than 40% above its 200-day moving average. With a 42% spread, that is the highest relative to its 200-day moving average since way back in March of 2000.
Source: Bespoke Investment Group
Although that is likely a positive in the near-term for energy equities, it may not be a good sign for the price of WTI over the next six to twelve months. The number of times since 1984 where we have seen the WTI crude price rise more than 40% above its 200-day moving average can be counted on one hand. The chart below includes red dots to show these instances. With the exception of 1999, it isn't difficult to tell that buying crude oil after it gets this extended has not been the best long-term strategy, and the table below puts numbers to that picture with one-year forward WTI crude performance averaging -11% with a median decline of -23% over those times.
Source: Bespoke Investment Group
The recent crude oil rally has certainly been extremely strong; however, investors may be best served to see how things play out over the next few months. As the following chart shows, even with this huge rally, prices have only just come up close to the long-term downtrend line that dates back to the 2008 peak. Currently, that downtrend comes into play in the low $60 area versus the current price of about $59.50. We would like to see crude prices break above that downtrend and hold for a period of time before becoming more confident of the move. If that were to occur, sentiment toward the commodity would likely shift meaningfully more positive.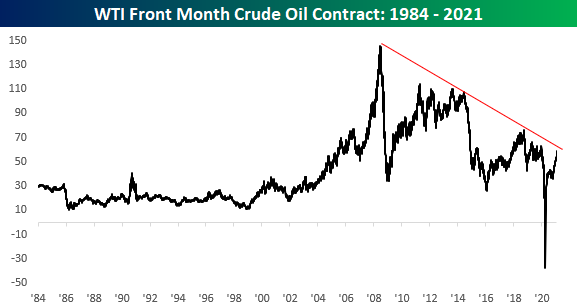 Source: Bespoke Investment Group
From crude to cannabis. The Canadian Health Care sector has also been on fire recently. With the Reddit crowd moving on from GME and AMC, they have focused their attention on cannabis stocks. On Wednesday, Aphria was the third most mentioned stock on the r/wallstreetbets board. The volatility is also creating a lot of opportunities and potential risks for the merger arbitrage crowd, given the set stock terms in the announced Tilray acquisition of Aphria which is expected to close mid-year. Although Thursday was a very big down day for the sector, the combined market cap of Aphria and Canopy exceeded $37 billion as of Wednesday. This is staggering and to put it into perspective those two companies combined were briefly worth more than Suncor, as seen in the chart below.
As we mentioned with crude, however, this is still a short-term rally and hasn't fully changed the long-term picture. If you look at the Horizons Marijuana Life Sciences Index Exchange Traded Fund (ETF), the largest ETF in Canada in the space and a proxy for the overall cannabis sector, the current price of the ETF ($14.13) is still ~47% below the all-time high of $27 it hit back in the October of 2018. It would have to rise almost another 90% to get back to that level. That being said, as opposed to crude, it does appear the downtrend line for the cannabis sector from late 2018 to late 2020 has been broken and therefore may have more staying power.
Source: Bloomberg, Connected Wealth
Sources: CNBC.com, Globe and Mail, Financial Post, Government of Canada, Government of Alberta, Johns Hopkins, oilprice.com, Canaccord Genuity, Tony Dwyer, Bloomberg, Connected Wealth, Bespoke