Market Insights: Global Markets at New Highs
Milestone Wealth Management Ltd. -
Dec 18, 2020
Macroeconomic and Market Developments: North American stock markets were mixed this week. The TSX Composite index was slightly negative, dropping 0.08%, however in the US, the Dow Jones was up 0.44% and the S&P 500 was up 1.26%. The Canadian dollar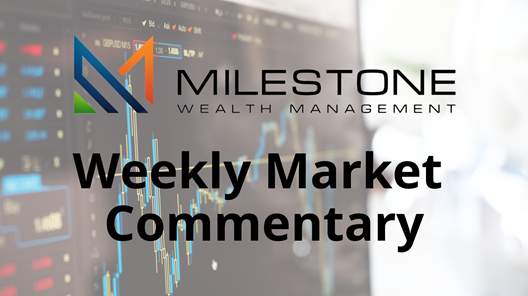 Macroeconomic and Market Developments:
North American stock markets were mixed this week. The TSX Composite index was slightly negative, dropping 0.08%, however in the US, the Dow Jones was up 0.44% and the S&P 500 was up 1.26%.
The Canadian dollar decreased slightly this week to 78.2 cents from 78.3 cents.
Oil prices were positive this week, with US WTI crude increasing from $46.50 to $49.00 this week, the highest level since late February. In Canada, the WCS price also increased to $33.70 from $33.00 last week.
Gold was up this week, closing at $1,886 from $1,840 last week.
Last Saturday, a blockbuster takeover was announced. Alexion Pharmaceuticals (ALXN) agreed to be purchased by UK-based AstraZeneca (AZN) for $175/share, with roughly 2/3 of that in the form of AZN shares. ALXN's stock price had closed the previous day at $120.98.
Two Canadian cannabis companies have agreed to merge. On Wednesday, Aphria (APHA) and Tilray (TLRY) announced that they have entered into a definitive agreement to combine their businesses and create the world's largest global cannabis company based on pro forma revenue. Upon the completion of the transaction, Aphria shareholders will own ~62% of the outstanding shares and the company will continue under the TLRY stock symbol trading in the US.
On Wednesday, Statistics Canada reported that the Consumer Price Index (CPI) rose 1.0% in November year-over-year, beating estimates of +0.7%, with shelter prices up 1.9% contributing the most to the increase. The CPI rose 0.1% month-over-month, roughly matching consensus. October wholesale sales came in up 1% vs the +0.9% consensus forecast.
Toronto based Mindbeacon Holdings (MBCN) went public on the TSX on Friday. The deal was heavily oversubscribed and as a result, the company increased the size of the offering twice to C$65 million. The issue price for the IPO was $8.00 with the stock finishing the day at $11.10.
The price of Bitcoin hit an all-time high this week. On Thursday, the cryptocurrency hit $23,777 before pulling back and finishing the week at $22,890.
Total global case of COVID-19 cases increased this week to 75.4 million, with the total death toll at 1.67 million. In Canada, total cases increased to 488,638, with active cases of 76,310. In Alberta, total cases stand at 86,168, with active cases at 19,865.
For a deeper dive, the US investment company First Trust has put out a US COVID-19 Tracker. Click here: COVID TRACKER
Chart of the Week:
This chart shows the S&P 500 over the past two years, along with three other major global markets - Developed Europe, Developed Pacific and Emerging Markets. The U.S. hit a new high above its February peak back in September due to strength in Technology. The Pacific and Emerging Markets then hit new highs in November. Europe has been the laggard, but even it too has now hit new highs. Unfortunately, our TSX Composite still hasn't been able to hit new highs, but we are close at just 2% away. Overall, this shows healthy demand and risk appetite for stocks as an entire asset class.
The key takeaway from here is that stocks are breaking out around the world, which is strongly bullish. While some equity markets may be extended and overdue for a rest, it is so important to remember the fundamental macro backdrop -- (1) low inflation, (2) incredibly accommodative Fed, (3) historic excess liquidity, (4) synchronized global recovery, and (5) underestimated S&P 500 & TSX Composite earnings per share -- should keep investors ready to buy any meaningful weakness.
Source: @mark_ungewitter
Sources: CNBC.com, Globe and Mail, Financial Post, Government of Canada, Government of Alberta, Johns Hopkins, oilprice.com, Canaccord Genuity, @mark_ungewitter